What is One of the Secret Ingredients with

Digital Insurance Marketing Success?
You Need Multiple Page One Rankings for the Same Keyword!
If your website is on page 1 of the search engines for one particular keyword, did you realize you only have a 3%-5% chance a prospect will click through to your website?
Why such a small chance?
The first page of Google includes between 21 and 28 competing spots for prospects to click on!
Typically there are up to 11 pay per click advertisements, 7 Google Business Plus Listings, and 10 Organic listings.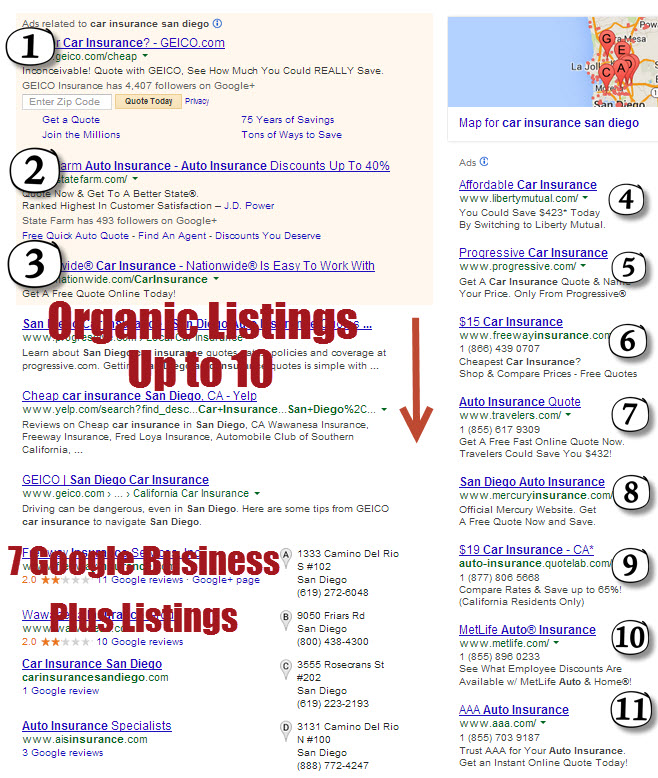 A single listing even if it is listed in the first position organically provides only a relatively small chance that prospects will click on your website.
However when your website is listed multiple times for the same keyword on page one you increase your click through rate dramatically.  Why?
More Is Better with Digital Real Estate.
Let's consider the example of Pathway Insurance, and independent agency I personally own.
There are certain insurance keywords we target in my agency where we control 60% of the first page of Google, Bing, and Yahoo.
In other words when prospects type certain insurance keywords into the search engines my insurance websites are listed as many as six times on the first page!
This technique dramatically increases the likelihood prospects click through to our websites, versus only a 3-5% chance for an agency listed only one time.
We are the only marketing company promoting this digital Insurance Marketing strategy.  Investing in a Domination Marketing Package with our company will dramatically increase click through rates by generating multiple page one rankings for the same keywords.
This strategy is only available through Domination Marketing Packages 4-6.
We Guarantee Digital Insurance Marketing Results!
Our Domination Marketing Packages guarantee better rankings and the acquisition of far more electronic real estate compared to any competitor offering even the most expensive website system to insurance agents.
Take time to compare our Domination Marketing Packages with any competitor offering Digital Insurance Marketing systems to agencies.
We offer more features, benefits, and most importantly ranking guarantees.
Call and speak with a project manager today to learn how you can not only dominate online marketing for lead generation in your area, but we can push your local insurance agent competitors right off of the first page of the search engines when you invest in a Domination Marketing Package.
Call the WIN Group at 513-800-1399 or the insurance offices of Pathway Insurance at 513-662-7000 we look forward to your call.
Tags:
Digital Insurance Marketing