Update on Results for Our Personal Insurance Digital Marketing System.



As we begin the New Year I wanted to share personal results for one of my websites: http://www.pathwayinsurance.net.
As an active agency owner over the last five years I have fine-tuned and developed what I believe is the most powerful insurance digital marketing system on the market.
I'll provide you some evidence of that statement in just a moment.
But first let's discuss what options insurance agents have when they are wishing to increase their online presence for their agencies.
Companies that Offer Insurance Digital Marketing Systems.
There are a number of insurance marketing companies that sell insurance digital marketing systems, some companies sell cheap insurance website templates, and there are a large number of graphic design companies selling simple insurance websites to agents.
Some insurance marketing companies may charge over $100,000 for a three-four year commitment on the agencies part.  And there are individual graphic designers that will build a template website for $500.
What Is Best for Your Agency?
Some agents might believe that investing as little as possible in an insurance website is the best tactic and the reason why agents might take this step is because they do not fully understand the power of insurance Internet marketing.
I'll share my personal results from one of my websites in just a few moments.
Agents that invest very little on online marketing have in a sense purchased nothing more than an expensive online billboard that is much like a Stealth Fighter… it is completely invisible to prospects searching for insurance online!
So if you pay a graphic designer $500 for your insurance website, but it can't be found by prospects searching for insurance online, it's my personal opinion that you have wasted your money!
The reason why I make that statement is because it takes website promotion or something better known as Insurance search engine optimization (SEO) strategies both On Page SEO and Off Page SEO to make your website show up on the first page of the search engines.
If You Are Not on the

First Page of Google

for

Multiple Insurance Keywords

, You're Wasting Your Time and Money.
You can be on the first page of Google for one or two keywords and receive zero leads and that's why you need to have many different insurance keywords on the first page to be effective.
My Personal Insurance Digital Marketing Results over the Last 12 Months for My Agency.
In one calendar year we had 6,640 potential customer visits to my Pathway website. 5,097 insurance prospects were brand-new and the remaining numbers were repeat visitors.
You can see the snapshot from my Google analytics account, those were real visits and it led to a substantial amount of production for my agency.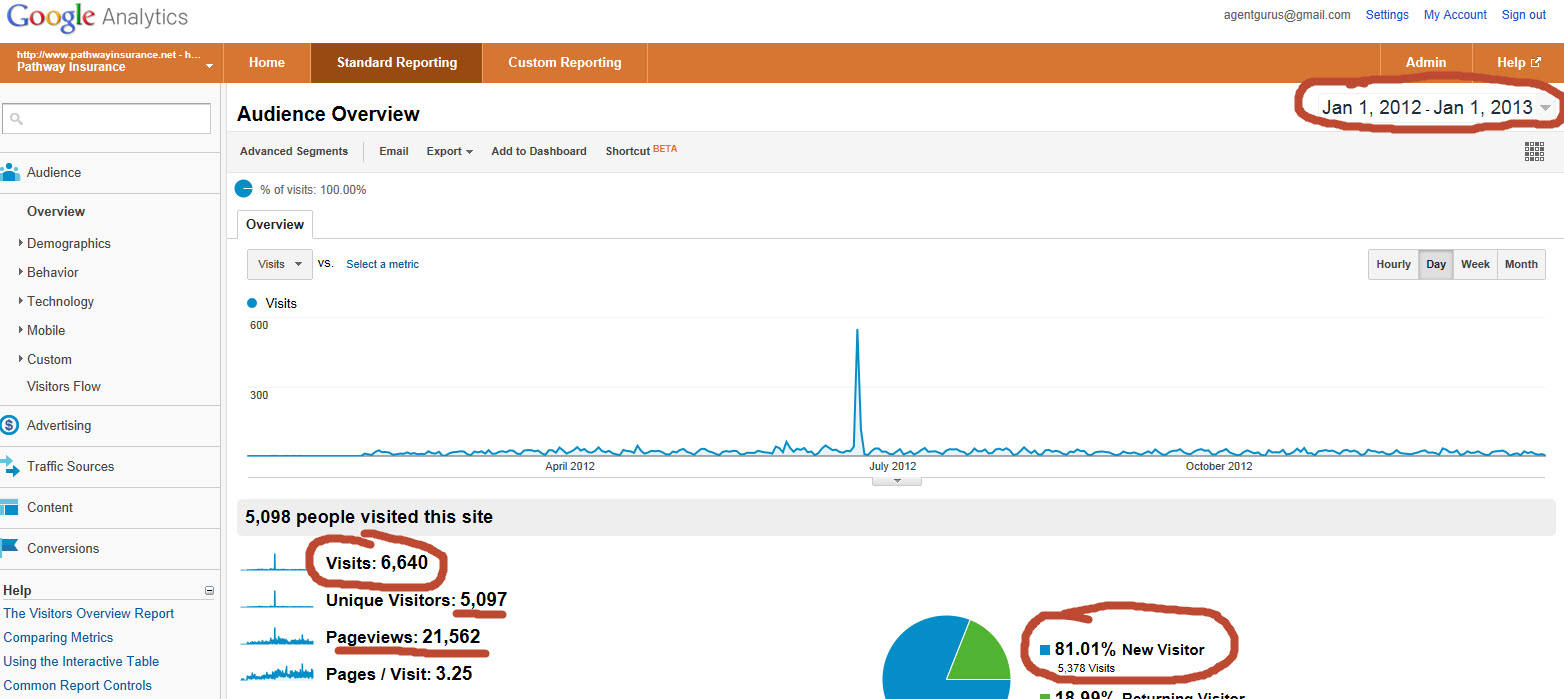 None of the visits came by means of pay per click advertising, as we find it unnecessary. All of the visits came by means of organic promotion strategies and techniques that I developed using my website and online videos. (Additionally we had more than 1,400 visits to my online commercials.)
What would happen to your production levels if in 12 months you had over 7000 prospects visit your websites?
For my insurance agency that meant hundreds of thousands of dollars in new production in both personal lines and commercial lines just in one year!
Do you want the same results?
If so call and speak with me personally or one of my assistants.   My office number is 513-662-7000.
I can show you how my system is far more cost-effective compared to other insurance marketing companies offering even the most expensive insurance digital marketing systems.
Tags:
cheap insurance website templates
,
Insurance Digital Marketing
,
Insurance Digital Marketing System
,
Insurance Digital Marketing Systems
,
insurance internet marketing
,
insurance marketing companies
,
insurance website templates
,
insurance websites