Pricing Update for Insurance Website Systems offered through the Web Insurance Network.
In analyzing our main competitors offering digital insurance website systems we have discovered we are substantially undercharging for our services!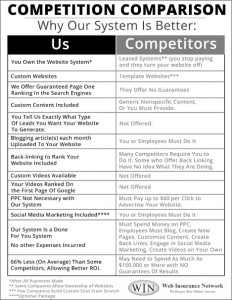 Click on digital insurance marketing to review our competition comparison chart.
Because of this fact and other expense issues involved in building systems for agents, we are increasing our prices significantly, and adding new services to some of our current packages as of November 15th 2013.
Call the insurance offices of Pathway Insurance at 513-662-7000 and speak to Jack Thomas to learn how our digital insurance marketing system is the most comprehensive and powerful of all systems available today.
Increasing Our Pricing is Not A Sales Gimmick!
We are not increasing our prices as a cheap sales gimmick to entice insurance agents to buy now.  Our packages are far more comprehensive and powerful compared to competitors charging 8 times more money than our existing price structure in our opinion! 
Click here to see a competition comparison chart.
Our existing price structure is increasing by 50 to 100% or more on November 15th 2013 for our digital insurance marketing systems.
Example Package 3:  The current price point for this package is a one-time payment of $12,580.26. 
Pricing after November 15th: $25,160 (paid in full or financing available)
Two new services are being offered on package three:
Insurance Drip Marketing System with six campaigns provided. Click here for more information on drip marketing.

Video Marketing System. 10 custom videos specific to the agency. Five custom videos for the website to encourage prospects to contact the agency for a quote. Five videos to be used for online marketing.  The agency decides what product the videos will target. We write the scripts and produce the videos using paid actors. 
We Will Be Raising Prices Again in the First Quarter of 2014
Our principal competitors offering digital website systems charge between two and eight times more for their systems in comparison to our new adjusted pricing after November 15, 2013!
Yet our systems contain features and powerful benefits they do not offer. 
Click here to see a comparison.
Why Our Prices Are Significantly Lower?
We believe in providing incredible value to our insurance agency clients as we too are actively involved as agency owners in the insurance industry.
Additionally as a newer company, Agencies hiring our company in the early stages of our existence will receive powerful discounts clients hiring us one year from now will not receive.
It is our firm belief you will receive a far better return on your investment (ROI) compared to other companies charging significantly more.
You will also discover our insurance website systems are custom designed to your exact specifications. Your digital insurance marketing system will produce the types of leads you wish to generate for your agency.
Call Us Today to Learn How Our Insurance Website Systems Are Better.
513-662-7000. 
Tags:
digital insurance marketing systems
,
digital insurance website systems
,
insurance drip marketing
,
Insurance Website Systems