Why You Should Avoid Using Do-It-Yourself Insurance Template Websites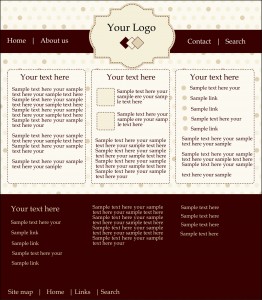 Some insurance agencies make a mistake by using a template driven insurance website.
While the low prices seem tempting, it's not likely that an insurance template website will show up on Google's radar screens.
In other words your insurance template website likely will be completely invisible to the search engines and prospects will not find your website.
To be found by the search engines your website needs to have properly engineered On Page SEO + Off Page SEO.
In reviewing a number of different companies offering insurance templates to agents, I discovered significant errors that would impair that insurance template from showing up on the first page of Google.  
Why You Need a Custom Insurance Website

?
Typically custom websites are more appealing graphically compared to insurance template websites. (They look better to you and to prospects.)
The custom insurance website additionally can be customized to the exact specifications of your agency. An insurance template website can't be customized.
Additionally custom designed insurance websites are able to incorporate online quote systems through companies such as Ezlynx, whereas a template website will not have that option.
Our custom designed websites are Engineered in a way that makes it far easier for prospects to find your website when searching for insurance on the Internet.
Insurance Template Websites are Not Unique.
There may be hundreds of different versions of the same website that other agencies are using. What do you personally think would look better? A website that looks like everybody else's website, or one that is designed specifically for your business? 
Which do you think would stand out more so to new potential clients?
Obviously it's going to be the custom designed website. Not a template driven website.
Template websites are much more difficult to rank on the search engines as they are built around a low-cost environment allowing no room for proper search engine optimization.   Every single template insurance website that I have ever reviewed had little to no effective search engine optimization built into the template, which essentially makes your website invisible to the search engine's.  
Custom Built Insurance Websites Are More Effective Than Template Websites!
A custom insurance website is certainly a larger investment, however a custom website has the potential to generate larger returns to your agency versus a template website that is essentially a clone of another website. (Insurance agents should also avoid creating websites themselves unless they are skilled in graphic design.)
I personally invested more than $10,000 for my custom insurance website, but my return on my investment is more than $4 for ever dollar invested in first year commissions!
We offer custom insurance websites with ZERO percent Financing.  
Our custom insurance web sites include all content written specifically to products that you are offering in your agency, images, two specific niche videos, hosting for one year, online quote system if you are a subscriber through online raters such as Ezlynx, six hours of one-on-one training on how to use a CMS based website.
Additionally training includes the exact sales system that we use in our agency consisting of sales scripts, emails, and the sales material we send to prospects that helps us to close more than 50% of every Internet lead we generate from our website!  
As an additional bonus we provide one month of insurance website promotion for no charge with a $500 value! (This is the primary method to push your website up in the search engines, the first step is to have a properly engineered website.)   
Pricing for Custom Insurance Websites
Base pricing Starts at $3,497 with a $1,497 down payment and monthly payments of $333.33 for 6 months.   Additionally we offer a paid in full rate of $2,997.  
A custom website is certainly a larger investment, but the return can be significantly better.  A custom website developed by our company is guaranteed to out rank any company offering insurance template websites.  (Or we will give you 12 months of free website promotion worth $6,000.)
Lock Your Rates In Now! (We will be raising prices dramatically in the future)
Because our rates are significantly less than our competitors offering digital insurance websites, we will be increasing our pricing at a future date. 
Agencies contracting with our company to build custom websites now, or using our company for the monthly web promotion services are guaranteed to keep the same prices for as long as you maintain services with our company.  (No more than a 30 day lapse in services.) 
Our websites will outrank and outperform any company offering insurance websites to agencies, guaranteed!  (Assumes that you secure the monthly website promotion services through our company and the equivalent monthly investment between companies is the same.)
Call my insurance office today if you have questions or you wish to hire our company to build a custom insurance website.  Our Insurance agency office number is 513-662-7000. 
Tags:
Custom Insurance Website
,
Digital Insurance Websites
,
Insurance Template Websites